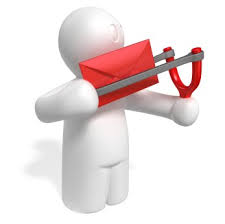 I've been the CEO of a digital marketing agency for 10 years, and I would like to share 5 super secrets that our team uses to get our clients 1000?s of email subscribers. But, this post isn't about how to write better blog posts. Let's assume you already do that. This post is about how to turn your visitors into subscribers. In other words I want to help you increase the conversion rate of your email subscription form.
None of these secrets will cost you more than a few bucks, but they will take a little bit of your time to install. But, go big or go home, right? If you're going to blog, blog like a pro; and this is how you get more subscribers like a pro.
Secret #1: The Pop-Up
I know what you're thinking. NO! I agree, pop-ups can be very annoying, but if done right they can be very effective. When a user first gets to your blog, wait a few seconds. Let them start reading and after about 10 seconds hit them with a very clean pop-up message that asks them to subscribe. This may seem annoying to you, but trust me it works. Of course, don't force the user to sign up. Make sure you have a small close button and a small "no thanks" link on the pop-up.
Use light-box pop-ups, not new window pop-ups (so they don't get blocked)
Have 2 close buttons (an "x" and a "no thanks" text link)
Set your cookies to only show 2-3 times to every new user, then never again
Disable this pop-up on mobile phones!!!! (or be super annoying)
Takes about 20 minutes to install and maybe an hour or so to create a good pop-up design
Pop-up Subscriber options
Secret #2: The Free Download
Don't just ask your visitor to subscribe. That's what everyone does. Offer them something valuable, like a free white paper, checklist, or download. This is huge! If your freebie is good and instant, your number of email subscribers will sky rocket. You can tell your users about the free download in the pop-up we discussed in secret #1.
Give something valuable away (white paper, checklists, etc.)
Make sure it's instant (you can download it now)
Your email subscribers will sky rocket!
Make sure you follow all CAN Spam rules
Takes about a 1-2 hours to install or less (make it look good!)
Read if using feedburner: Feedburner Trick: Give Users a File AFTER They Subscribe
Secret #3: Add a Subscription Request Inside Blog Posts
Sometimes your readers are so focused on your awesome post that they ignore what's in the sidebar and instinctively close any pop-ups before reading them. So, ask them to subscribe half-way down the post by putting a subscription form in your content. As they're reading they will be more likely see this and of course be more likely subscribe.
Add a subscription request inside the content of your blog posts
Takes about 15 minutes to install
Any email platform should allow you to pop-in a subscribe form
Secret #4: Notification Bar
Get your visitors' attention by adding a notification bar to every page. They are super easy to install and very effective. Hello Bar is one of my favorite and takes about 5 minutes to install on almost any type of website. This notification bar can be placed on any page or all pages, and the best thing about it is that it is always there; even if the user scrolls down they can still see it.
Notification bar (Try Hello Bar. It's free!)
Make it a different color (other than your blog colors) so it pops
Add to specific pages or all pages
Track your # of conversions (Hello Bar does this)
Takes about 15 minutes to install
Secret #5: Use Single Opt-In
Single opt-in is when a user only has to subscribe on your blog by entering their email. Double opt-in is when they have to subscribe on your blog and then confirm it in email. I prefer single opt-in for obvious reasons. It's one less step! Why make your users agree twice? They already said yes, why ask again? Plus studies have shown that you can increase subscribers by 25% using single opt-in. Don't risk your confirmation mail getting lost among the other junk in your user's inbox. Some mail providers require double opt-in, but there are plenty that don't, like ActiveCampaign.
Use single opt-in (no email confirmation aka double opt-in)
Studies have shown a 25% increase with single opt-in versus double opt-in
Don't risk confirmation emails getting lost or not clicked
ActiveCampaign allows single opt-in email subscribers
Conclusion
I really recommend you don't just do one or two of these super secrets. Do them all. The pros do all of them. That's what makes them pros, they have tested and tested, then they retested.
Here's a little more good news. Every secret above can be done for free or at little cost. So you don't need money, just a little bit of time to implement these secrets. I hope you enjoy these secrets. Don't be stingy, share them with friends and colleagues.
Author: Marvin Russell
Courtesy: www.blog.seogroup.com