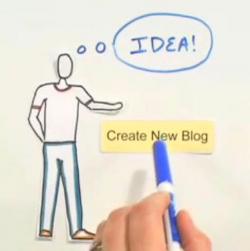 Every blogger wants a bigger audience. You know that one of the best ways to capture readers is to provide great content—but did you know that it's even more effective to give that great content away to another blog?
Guest posting is one of the best ways to market your blog, hands down. It may sound like a lot more work, but the time you invest will pay off as your subscriber numbers swell.
What is Guest Posting?
Just as it sounds like, guest posting means appearing as a guest on someone else's blog with a post you've written. A guest post lets you connect with new readers and new audiences—and it also helps out the hosting blogger by giving them fresh new content they didn't have to write.
Of course, you can also invite guests to post on your blog. But if you're struggling to grow your audience, it's more effective to be a guest poster yourself.
What, exactly, can guest posting do for you? Here are a few of the benefits.
Build Relationships with Other Bloggers
Popular bloggers are major online influencers. They drive a lot of the conversation that ends up going viral on social media sites like Twitter and Facebook, and their audiences trust their thoughts and opinions. When you appear as a guest blogger, it's assumed that the hosting blogger approves of you and your message.
You're also helping them out by providing them with good content that adds value for their readers. This helps you make friends in the blogosphere—and it's good to have influential friends who can help you spread the word about what you're doing.
Boost SEO with Backlinks
Most hosting blogs will allow you to place a link back to your own blog, either in the body of the post or a short bio at the end. These backlinks are more valuable than keeping your blog updated with fresh content, because search engines place more weight on them.
The more quality and authority links you have leading to your blog from other websites—especially those that already rank high for SEO—the higher your search engine rankings will rise. Just make sure you stay away from the mindset of solely using guest blogging for link building, it won?t work and it may just be rejected by the host and considered spammy.
Get Introduced to New Communities
The Internet is a huge collection of communities, and some are bigger than others. Guest posting for a popular blog is like being handed an invitation to join a large community of like-minded people that you wouldn't have been able to get in on your own. All you have to do is show up and be interesting, and some of that community will follow you "home" to your blog.
Tips for Being a Good Guest Blogger:
Put as much effort—or more—into your guest posts as you would a post of your own. As a guest, you're offering a first impression, and you'll want to make it a great one. You can find some tips on writing a great guest post in my recent article, The Perfect Post.
Don't market. Use your guest posts to offer something of value—be informative, or entertaining, but not pushy.
Research the hosting blog. Read through some of the archives and make sure your guest post will fit the themes and topics. You can also check to see which types of posts have the most comments and model your guest post after the most popular entries.
When your guest post is up, spread the word on your own blog and through your social media accounts. Host bloggers appreciate the attention and the potential audience crossover. Check in a few times and respond to any comments your post receives.
Be sure to thank the host blogger after your post has run.
Guest blogging is a great strategy to gain new readers and drive more traffic to your blog. Be patient, keep at it, and guest blogging will pay off for you!rity," IBM decided to go a different way, and their numbers were amazing.
Author: Megan Totka
Courtesy of www.iblogzone.com