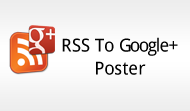 Following the numerous requests from you and our own intention a new RSS to Google+ Poster has been added to Feedsposter arsenal!
The set of Feedsposters tools would never look finished without Google+ poster. Since Google+ is one of the most popular social networks we consider it to be a vital necessity to have along with other posters.
Now you will be able to make scheduled posts to your Google+ network. And your updates will be sent not only to your main page but also to any specific Google+ page under your account. So you will be able to update several Google+ accounts and several Google+ pages at the same time. Just create new projects and set them according to your needs.
However, this poster will have a limited functionality comparing to one in RSS Ground service. RSS To Google+ Poster will be a part of RSS Ground Professional membership. To upgrade your subscriptions please go to memberships list and choose Professional membership to order.
RSS to Google+ Poster has a familiar interface similar to Facebook and LinkedIn posters. However you may refer to user manual to learn about the details on how to operate it.
As usual we are awaiting your comments and remarks. We also will be following all new ideas and proposals from you.
Please enjoy the new RSS to Google+ Poster and send us your feedback so we could make our service even more advanced and powerful.